Regular price
Sale price
$12.00 USD
Unit price
per
Sale
Sold out
Introducing our revitalized Turmeric Soap, a dynamic blend of nature's finest ingredients to rejuvenate and nourish your skin. Infused with the potent combination of kaolin clay, turmeric, papaya extract, and carrot extract, this soap offers an enhanced formula that delivers exceptional results.

Our Turmeric Soap is meticulously crafted to provide you with a luxurious bathing experience while promoting a healthier, more radiant complexion. The star ingredient, turmeric, harnesses its renowned antioxidant and anti-inflammatory properties to combat environmental damage, soothe irritation, and promote clear, vibrant skin.

The addition of kaolin clay provides a gentle exfoliation, effectively removing impurities and dead skin cells to reveal a fresh, revitalized appearance. This powerful clay also helps balance oil production, making it suitable for all skin types.

Papaya extract, rich in natural enzymes and vitamins, works synergistically with turmeric to brighten the skin, fade scars, and promote a youthful glow. Its exfoliating properties gently slough away dullness, leaving behind a smoother and more even complexion.

Carrot extract, packed with beta-carotene and antioxidants, assists in reducing hyperpigmentation and evens out skin tone. It nourishes and hydrates the skin, giving it a supple and radiant look.

Our Turmeric Soap goes beyond its rejuvenating benefits. It caters to individuals dealing with skin conditions such as eczema or psoriasis, as the gentle yet potent properties of the natural ingredients work harmoniously to soothe and calm irritated skin. With consistent use, you'll notice a visible reduction in redness, inflammation, and discomfort, allowing your skin to regain its optimal health and beauty.

Indulge in the ultimate self-care experience with our revitalizing Turmeric Soap. Elevate your skincare routine and unlock the potential of nature's gifts to reveal a luminous complexion that exudes confidence and vitality.
Target Concerns:
Dark Spots/Acne Scars
Hyperpigmentation
Acne-Prone Skin
Dull Skin
How to Use:
Wet your face and the bar, rub the bar to produce lather and proceed to wash your face. Use a face brush or fingers to massage cleanser into the skin. Rinse thoroughly and follow up with the rest of your skincare routine.
What's in it?
Coconut Oil, Palm Oil, Safflower Oil, Glycerin, Goat Milk, Water, Sodium Hydroxide, Sorbitol, Propylene Glycol, Sorbitan Oleate, Oat Protein, Titanium Dioxide, Turmeric, Honey Powder, Kaolin Clay, Bentonite Clay, Orange Peel Powder, Oatmeal, Papaya Extract, Carrot Extract
Share
View full details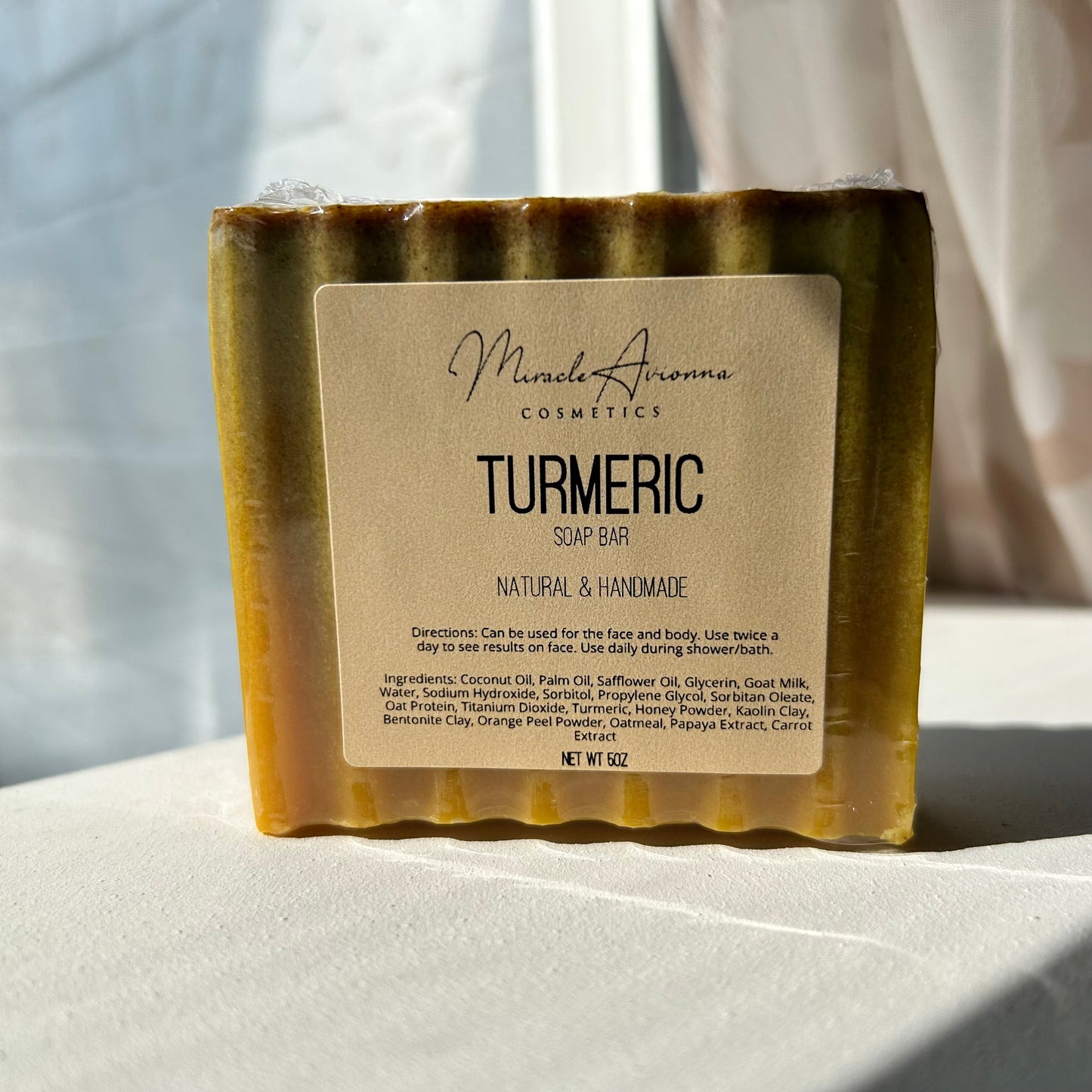 LOVEE!!
This is genuinely amazing. I've tried many other soaps like this but this one never failed me i have pretty bad acne and acne marks and it has helped so much. My acne clears quicker now and my skin is so glowy I definitely recommend this one !!
Best product
Me and my daughter love it she has eczema and i have dark patches and dry skin it has been such a pleasure using these products I had cleared mine up and helped her so much she says where is my special soap.
Fantastic!!!!
Where do I Begin? This product has made my skin glow. It makes me feel amazing on the inside and the outside. When you pair it with the golden glow oil it makes you feel 10 times better not even 10×100 times better. You guys need to go buy these products because it will make you feel beautiful and confident. Miracle Avionna is way talented!!!
Gold!!
This is by far one of the best bar soaps I've ever used! I'm normally not a fan of the residue that it leaves behind but this doesn't do that, it's perfect, on top of that the turmeric has evened out the dark spots from hormonal breakouts on my face.
That glow!
Best face soap I ever used! It cleared my face up from outbreaks especially those pesky monthly breakouts! I started using this before it started and it clam that right down, no crazy outbreak! Deff recommend with the whole glow bundle! Best decision I ever made. Buy it NOW!